Largest office furniture remanufacturer in the United States


Headquartered in Albany, NY, Davies Office was founded in 1948 as a small, family-owned business. Since then, Davies Office has grown to become a nationally recognized leader in green remanufacturing and sustainable office solutions, with distribution and services throughout the continental United States and Canada.
Davies Office has partnered with numerous Fortune 500 companies to deliver greater value and flexibility in office solutions. Today we're the country's largest independent remanufacturer—and ready to assist you in furnishing a smarter workspace. We offer custom upgrades for brands like Herman Miller, Steelcase, and Knoll, and provide innovative offerings designed to make the most of your pre-existing assets and future investments.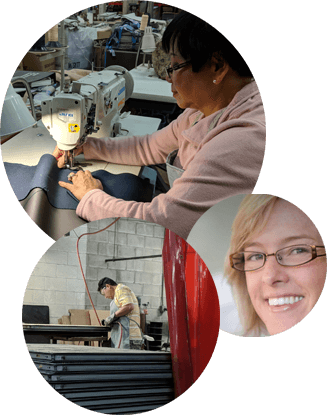 We're proud of what we do; it's how we became both LEED- and LEVEL-certified. Our ultra-modern 300,000 square foot manufacturing facility utilizes leading technologies to make any project quick and cost-effective. Of course, we couldn't do it without the help of our office team, and our team of trained professionals consists of the best and brightest in the field.
Woman-owned and employee-oriented, we employ over 160 full-time employees, and our team works hard toward a goal of environmental sustainability and corporate responsibility. It's why we employ the best, and our team members come from all over the world — making Davies a culturally diverse workplace with unified team goals.
Davies Office's recognitions through the years
2017

Facility Executive – Readers' Choice Award Winner

2016

Facility Executive – Readers' Choice Award Winner

2015

Facility Executive – Readers' Choice Award Winner

2014

Today's Facility Manager – Readers' Choice Award Winner

2013

Today's Facility Manager – Readers' Choice Award Winner

2012

Today's Facility Manager – Readers' Choice Award Winner

2011

Today's Facility Manager – Readers' Choice Award Winner

2010

Today's Facility Manager – Readers' Choice Award Winner

---

NYSBDC and U.S. Small Business Administration Excellence Award Winner – Selected by the Albany Regional Chamber of Commerce

2008

NeoCon – Best of NeoCon Silver Award for Furniture Systems Enhancements

2004

Colgate Palmolive's – Diversity Supplier of the Year

---

Todays Facility Management – 1st Place Furniture Refurbished Category

2001

Rochester Institute of Technology – Award for Efforts and Leadership in Advancing the Remanufacturing Industry

---

Upstate NY Regional Minority Purchasing – Council Award

2000

ICIS Inner City – 100 Fastest Growing Companies in America

1998

Siena College – Family-Owned Business of the Year