Furnish a Smarter Workspace with Remanufactured Steelcase® Office Furniture
Steelcase® office furniture is an incredibly popular choice among businesses due to its impressive versatility and impeccable craftsmanship. Whether you're looking for a few cubicles to accommodate new employees or enough office furniture to outfit an entire office, we can provide you with the products you need.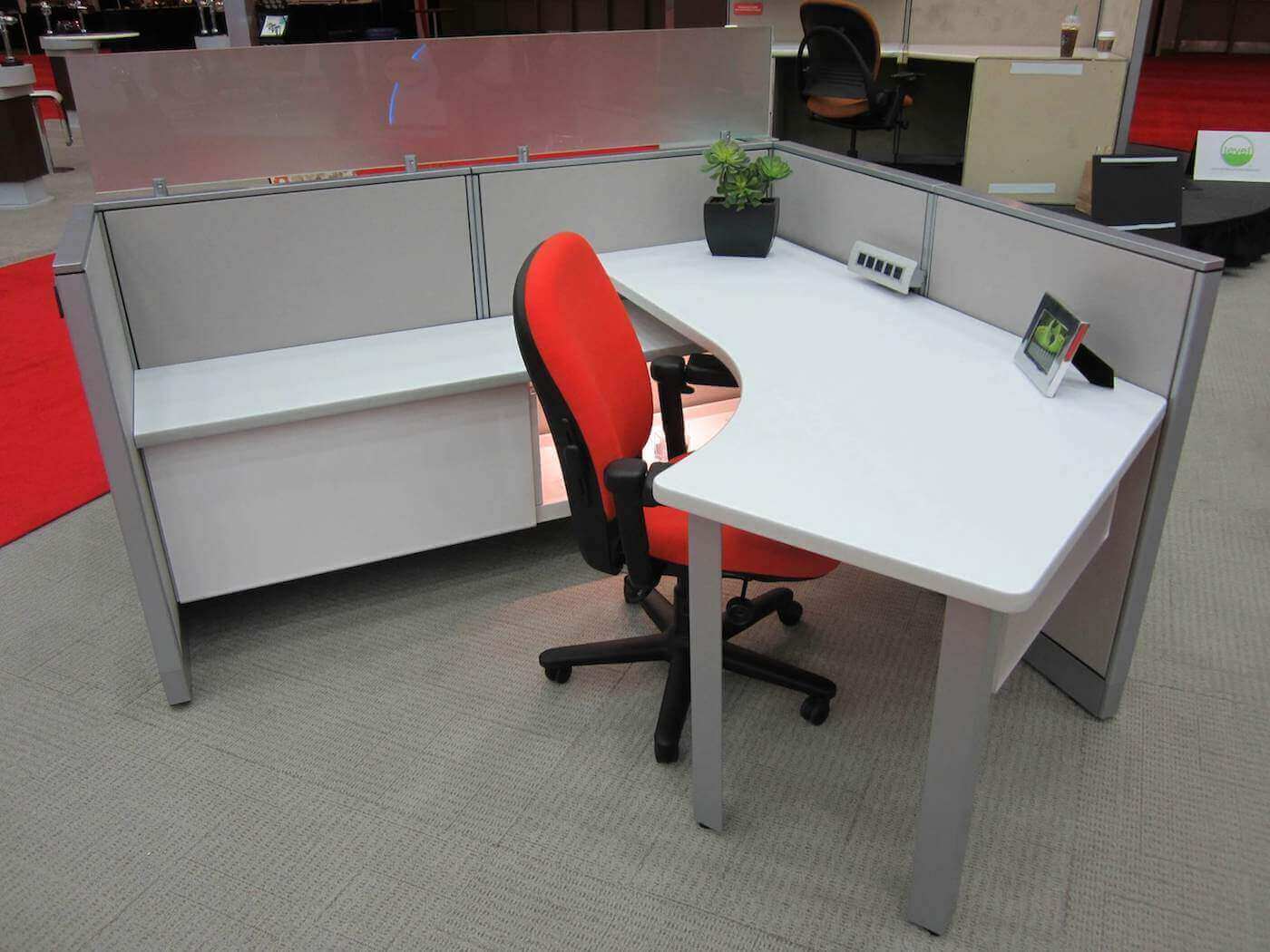 Looking for Steelcase® Furniture?
Remanufactured Steelcase® office furniture is a cost-effective option for businesses looking to outfit their workspace with stylish and expertly crafted systems. Along with the cost-saving benefits, our remanufactured cubicles are also an exceptional solution for businesses wanting to reduce their environmental impact. We use only the most eco-friendly practices when remanufacturing our office furniture and always recycle or reuse materials.
Do You Want to Outfit Your Office With Steelcase® Cubicles?
If you need affordable remanufactured Steelcase® cubicles for your business, look no further than Davies Office for the lowest prices and widest selection. At Davies, we have a vast inventory of new, used, and remanufactured office cubicles, so you can create the perfect blend of office furniture that meets your needs and fits your budget. Call us at (518) 449-2040 to learn more about our selection of Steelcase® remanufactured workstation cubicles.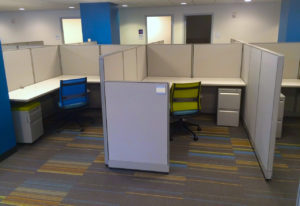 Steelcase® Cubicles Are Both Modern and Versatile
Steelcase® workstations have long been known in the office furniture industry for their flexible and modern design that allow them to easily adapt to a range of business environments. These popular workstations provide employees with the privacy they need to work on solo tasks, while also allowing for a quick transition into a format that promotes collaboration.
Steelcase® Cubicles For Reliable Performance and Durability
All of our premium remanufactured Steelcase® cubicles are engineered to provide performance and maximum versatility, while placing an emphasis on balance; combining the ability to help people work collaboratively or individually. As a result, you're sure to find a Steelcase® workstation or cubicle that provides your employees with the daily support they'll need in almost any work environment.
Customize Your Workspace with Endless Steelcase® Cubicle Options
With so many options available, our remanufactured Steelcase® office cubicles are sure to meet your unique needs. Plus, these cubicles or workstations are available in a wide array of styles, colors, configurations, and materials, meaning you'll find products that perfectly complement the interior of your office.
You can choose and customize from modular, corner, computer, and custom steelcase® cubicles. We also have new and refurbished models available. Our Steelcase® cubicles are available with features such as:
Low, seated privacy, and tall office panels
L-shaped, U-shaped, left-return, and right-return configurations
Filing drawers, storage cabinets, bookshelves, and cubbies
And many more!
Choose From Our Expansive Collection of Remanufactured Steelcase® Furniture
At Davies Office you can help the environment and improve your workspace with high-quality office furniture that has been remanufactured. Steelcase® office furniture solutions are known for their quality, impressive design, and their ability to be modified to define any space or setting. With popular brands and product options like Steelcase® Answer, Avenir, 9000, Leap, and Criterion, you can outfit your office with top-quality remanufactured cubicles, chairs, and desks at a fraction of the cost.
For more information on the variety of Steelcase® workstations we have available, contact Davies Office today. When you do, be sure to ask us about our many value-added services, which can help you get the most out of your new office furniture purchases.
When one office furniture solution isn't enough, the Steelcase® Answer family can save the day. With a wide range of products designed for personal or collaborative tasks, Steelcase® Answer panels and office furniture solutions are ideal for both stationary and mobile office spaces.
Incorporate the freestanding Answer Fence for defining space without compromising spaciousness. Easily add technology upgrades, like power and data ports, to make use of available surface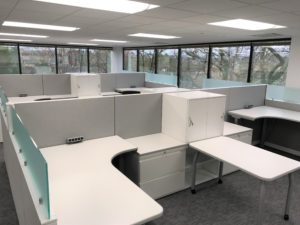 area. Answer Fence maintains organized workstations with a clean and efficient design that accommodates both space and privacy.
For low rising divisions with flexible storage options, attach Steelcase® Beam to your personal workstation. Incorporate fixed-height or adjustable-height desks for healthy seating and improved workflow, or modify barriers with little to no hassle depending upon social or individual needs.
To increase the feel of space in an open plan office layout, add Steelcase® Answer panels for designated workspaces that need to stand on their own. Adapt Answer panels to your business as you grow, or repurpose Answer panels when new spaces are needed. To learn more about the endless possibilities with the Steelcase® Answer family, contact us today to learn more about how we can help.
Popular with many businesses today, Steelcase® Avenir office furniture could be a valuable addition to your office space. Incorporate Steelcase® Avenir into your workspace for a sm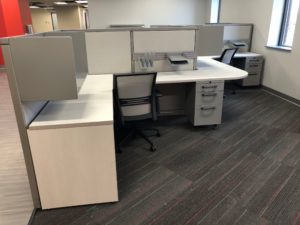 art and elegant design with a wide range of modifications available to customize its look.
Reclaim your space with Steelcase® Avenir office storage. Utilize overhead storage bins to take care of cluttered papers, or install privacy screen and panels to provide a space for quiet and concentration. Place storage towers in your Steelcase® Avenir workstation to maximize the use of space, or use Steelcase® Avenir lateral files for just the right amount of personal storage space.
Steelcase® Avenir can also be easily remanufactured to share. Work with team mates and collaborators in a relaxed space, or modify the space for collaborations when many ideas are needed. Interested in taking the next step? Contact us today to learn more about Steelcase® Avenir.
If you have Steelcase workstations that you no longer need, contact us first so we can talk about your options.  If all else fails, here are some helpful disassembly instructions on how you can break the panels down and recycle them instead of disposing of them:  Steelcase Series 9000,  Steelcase Avenir,  Steelcase Answer