Providing custom cubicles & workstations to businesses throughout North America
Since the mid-twentieth century, office cubicles have been a necessary and primary component of efficient office workspaces. In need of saving on a budget, many businesses and organizations chose to opt for open space layouts. This was a great option for businesses that thrived on collaboration, but for others it affected productivity.
For businesses where concentration and focus are important, Davies Office offers refurbished cubicles & workspaces at incredible cost savings for your workplace. Select from a wide selection of office cubicles, ranging from corner cubicles, call center cubicles, computer and modular, and more! Our cubicles are also designed to seamlessly blend with our computer, L-shaped, and ergonomic workstation solutions. Find the perfect fit for your office with Davies Office.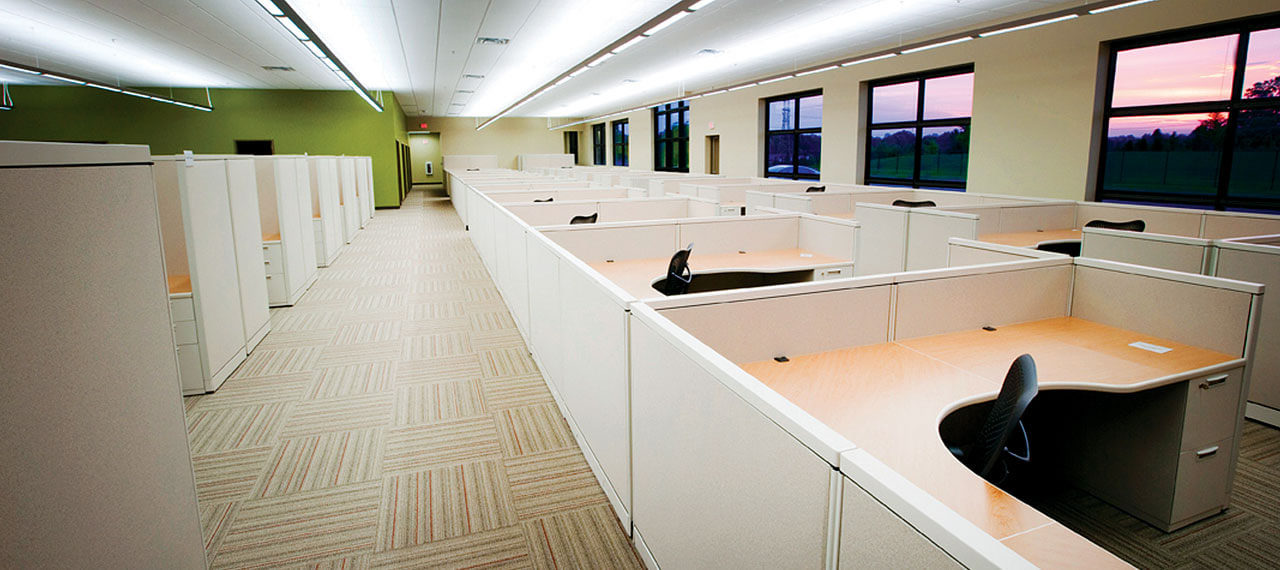 Did you know?
Davies Office was one of the first furniture remanufactures to receive BIFMA LEVEL certification for all our panel systems. Easily incorporated into any cubicle or workspace design, our panel systems are recognized as a sustainable and healthy way to furnish your office without harming the environment.
We offer a wide variety of cubicle & workspace options
Remanufactured at a lower price, Davies Office is able to offer brand-name, premium products for your corporate or home office. With our green remanufacturing processes, we can modify cubicles and workstations to be modular or stationary, and to match the look of your office furniture. We also have the ability to apply select finishes including: cherry, mahogany, oak, and maple to match any office decor.
Computer workstations
Modified for accessibility and comfort, our computer workstations make an excellent addition to any work environment, and can be made in sitting or standing versions.
L-shaped workstations
Get to work with our personalized L- or U-shaped workstations. Our models offer the options of both right- and left-returns for organization.
Ergonomic workstations
Modular office workstations can be made with ergonomic features for employee comfort and productivity, including articulating keyboard trays.
Corner cubicles
Optimizing privacy and space, corner cubicles can be used in a wide array of office space designs and layouts.
Modular cubicles
These standalone units can be used to create the feeling of separate workspaces for a more effective use of space.
Call center cubicles
Designed for look and utility, our call center cubicles can be used to improve workflow and minimize distractions.
Computer cubicles
Our computer cubicles represent the latest trends in functionality while cutting your costs, and provide effective cord management.
As an independent furniture remanufacturer, we have the ability to offer individual solutions for office furniture needs. Our wide selection of remanufactured office furniture contains sustainable products that are good for the environment. Or find a solution from among our vast inventory of premium pre-owned items with flexible pricing options.