Best Practices: Sustainability & Remanufacturing
Davies Office recognizes environmental, social, and economic responsibility as a key aspects of our business integrity. It's why we remanufacture our products using plans and procedures designed from a life-cycle perspective, aimed at reducing waste and harmful impacts on the environment. Through our implementation of Design for Environment (DfE) strategies, we create products with end-of-life management in mind, allowing us to prolong and sustain the value of existing materials in a way that benefits consumers and the community.
Our policies have targeted goals that produce real results. We've improved energy efficiency and durability, reduced negative environmental impacts, eliminated solid waste output, and reduced harmful emissions and pollutant exposure.
According to a research conducted by the National Center for Remanufacturing and Resource Recovery at the Rochester Institute of Technology (RIT):
The energy savings from remanufacturing 1 office workstation (5 panels) could power 10 average American households for one whole day.
One year of office panel remanufacturing at Davies conserves approximately 8.5 million pounds of raw materials.
The Davies Office remanufacturing process uses 82 percent less energy than manufacturing products from all new materials.
Each year, remanufacturing office panels at Davies results in energy savings that could power 342 average U.S. households for one year.
One year of office panel remanufacturing at Davies avoids the release of more than 6.9 million pounds of carbon dioxide into the environment.
Remanufacturing 100 workstations could power 3 households for on year.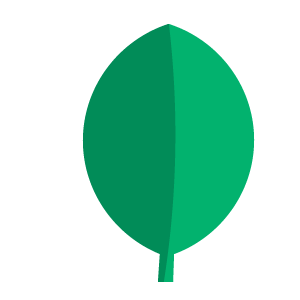 Davies Office Furniture Life Cycle Assessment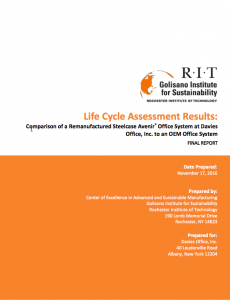 Case Study in partnership with RIT: from the Center of Excellence in Advanced and Sustainable Manufacturing (COE-ASM)
As a nationally recognized leader in green remanufacturing and sustainable office solutions, Davies remanufactures several major original equipment manufacturer (OEM) office system product lines. With our manufacturing facility, we offer highly customized options including: ergonomic enhancements and modern styling options that may not be available from other office furniture providers. From remanufactured brand name furniture, to asset recovery and re-deployment services, to exciting new value-creation programs, Davies provides innovative offerings for an affordable and more environmentally benign office furniture solution.
Read the full case study.
Client Challenge
Davies sought to compare the environmental impacts of their remanufactured office workspace product system to an OEM office workspace product system. The OEM for the Avenir® office system upon which this study is focused is Steelcase®, Incorporated. Products of focus include a work surface, divider/wall panels, lateral file, and a storage pedestal.
Process: COE-ASM Work Performed
The Center of Excellence in Advanced & Sustainable Manufacturing (COE- ASM) at the Rochester Institute of Technology (RIT) performed a comparative Life Cycle Assessment (LCA) of a Davies' remanufactured Steelcase Avenir® office workspace system with a new Steelcase Avenir® office workspace system.
The COE-ASM team investigated the environmental impacts of remanufacturing office workspace products by using established LCA modeling. Life Cycle Assessment is a methodology used to quantify the environmental impacts associated with all phases of a product or process life from cradle-to-grave, which includes material extraction to manufacturing, transportation, use, and ultimately, through end-of-life (EOL) management. Life Cycle models were constructed using SimaPro 8.0.4 modeling software in conjunction with both the ecoinvent 3 database and actual collected product and process data.
There were three office system life cycles compared: a)OEM, an office system manufactured at Steelcase®; b) Reman 1, an office system that has been remanufactured by Davies from a Steelcase® OEM office system; and c) Reman 2, an office system remanufactured by Davies from a Steelcase® office system that had already been previously remanufactured at least one time. The independent life cycle model explains the side-by-side comparison of the two products based solely on the processes used to make each office system component. The combined model explains how the average impact of the office system population is affected by multiple remanufacturing cycles compared to the OEM.
Results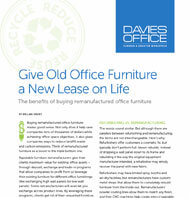 The environmental impact for selected categories was significantly reduced for the Davies remanufactured office systems. Reman 1 and Reman 2 are respectively 13 percent and 15 percent of the OEM life cycle respectively from cradle-to-grave for environmental impacts. The second remanufacturing life cycle is slightly higher since components are assumed to not be resized in the second life cycle. The first remanufacturing life cycle gets credit for metal depletion due to resizing of the panel and recycling of steel during this life cycle. The analysis of the individual components reveals that remanufacturing of the panels significantly reduces the overall environmental impacts.
Testimonial
COE-ASM was able to quantify the environmental impacts of our remanufactured workspaces versus OEM workspaces. We can now feel confident informing our clients on the positive effects remanufacturing has on the environment.