Use Existing Assets To Save With Exchange Banking
Outfitting an office doesn't have to eat up your budget, at least not at Davies Office. Taking a look around most offices, it's easy to spot furniture that just isn't needed. For instance, what should you do about that outdated filing cabinet in the corner that stores nothing but cobwebs? Or what about that empty, unused desk by the back that could be used someday, but likely won't be? Believe it or not, those pieces have value, and our sustainable exchange banking service lets you tap into that value.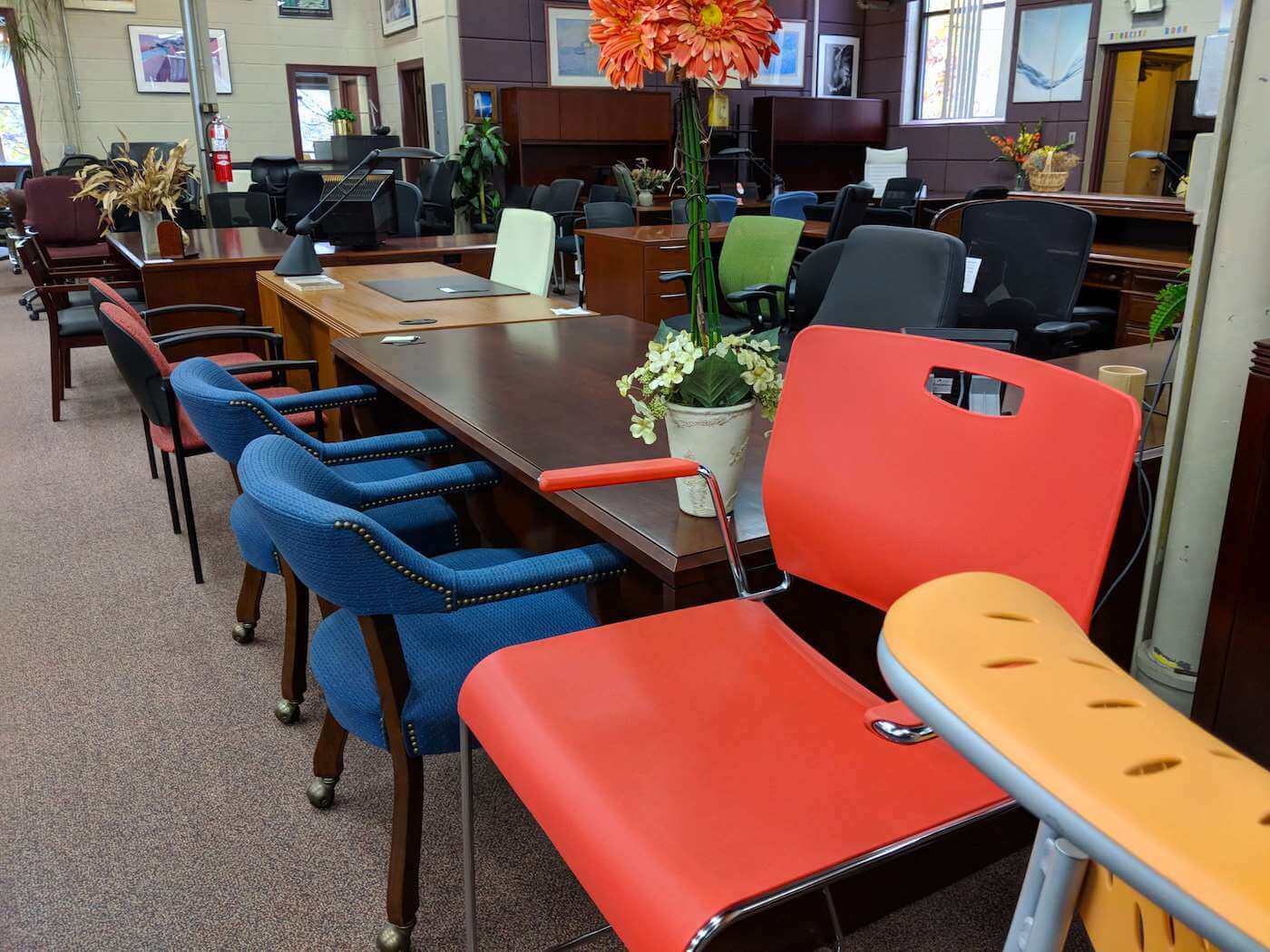 We'll Take Your Unused Assets
We often see clients with the same problem: they want to modernize their workspace to be more efficient and productive, but they're struggling to sell their outdated furniture. With our sustainable exchange banking program, you can maximize value by banking or trading your existing assets for credit. This credit can be applied to new furniture options, or banked for future investments, leaving you with new furniture at a lower cost.
How Does Sustainable Exchange Banking Work?
With office furniture exchange banking, any client can deposit their unwanted furniture into our furniture bank for earned credit. Davies Office gives these old assets a second life through a deconstruction process that salvages components for use in remanufacturing. This is good news for the environment: instead of chucking old pieces into landfills to rot, the items can be preserved and their value transferred to the client as credit.
At Davies, clients have the option of using earned credit to purchase "like kind" remanufactured products equal to the amount banked or exchanged. This allows clients to add premium-grade, remanufactured furniture to their workspace at a fraction of the cost while maximizing office space and budget.

Avoid Paying For Warehouse Fees
Is your surplus inventory currently in a warehouse? Expenses for warehouse space can accumulate fast. See how Davies Office was able to help a client save money and eliminate the need for warehouse storage with office furniture exchange banking.
Benefits of Sustainable Exchange Banking
By taking part in office furniture exchange banking, your business can reap the following benefits:
The option to continue existing depreciation schedules.

The ability to cease payments for storing unused assets, including lost opportunity costs.

Product valuation for products that were purchased years ago from our trained experts.

The opportunity to upgrade to today's furniture styles and requirements instead of being stuck to older models.

The ability to receive completely recycled, remanufactured furniture at a fraction of the cost of new furniture. These costs can be either expensed or capitalized depending on each situation.

Benefits the environment with a pro-active approach in dealing with the re-use and re-deployment of existing assets, without outputting solid waste.
With these benefits, our sustainable exchange banking programs will save your business money. Our programs also qualify for and conform with IRS regulation code Section 1031 (a) in regard to "Like-Kind" transactions, in which an exchange of equal value is determined and set in place. The value of products will vary depending upon make, model, age, and condition, and may be influenced by current market prices or external factors impacting the furniture industry.