We keep furniture in the office and out of the landfill. For us, as a green company, it's simple. Since inception, Davies has been at the forefront of the sustainability movement. It's why we were among the first members of the US Green Building Council™, and why we're a long-standing member of the Business and Institutional Furniture Manufacturer's Association (BIFMA).
We remain the top environmentally-friendly remanufacturer of office furniture in the country today, and have the research to prove it. In 2011, we were one of only three companies to receive Greenbuild's prestigious Leadership Award for excellence in sustainability.
Because we recognize the harmful environmental impacts that a product can have over its entire life cycle, we've committed ourselves to continuous improvement by using the principles and strategies of Design for Environment. This reduces the negative environmental footprint of our products and processes from a life-cycle perspective.  We also strive to keep our product capable of achieving a 2nd or 3rd life thru remanufacturing.  It's not uncommon for us to receive product back to be remanufactured a second or third time.  We are different from a standard new furniture manufacturer in that in the Cradle to Grave model, our Cradle starts with their product's Grave.  So all those raw materials and energy that went into creating that product at the beginning is not wasted and the useful life of that furniture can continue.
While we strive to reach a zero landfill, 100% recycled approach, there are still times where we need to dispose of excess unusable materials.  To minimize what goes to landfill, we have developed an entire process around our End of Life Recovery Options for every single part and piece that goes into our office furniture.  Click Here to view our End of Life Recovery Options document.  Over time we have also established an entire network to help us identify and recycle as many of these materials in the best way possible.  Click Here to view our Recycling Matrix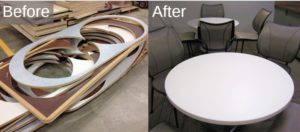 Reuse of existing core to create new tops
Eco-Friendly Technologies
Through our state-of-the-art technologies, we minimize production of solid waste that negatively impacts the environment. Our cutting process maximizes efficiency and our algorithms calculate how to use the most of any of our resources.

                        Durable Low-VOC Powder Coating Process 
Eco-Friendly Practices
We design our eco-friendly office furniture with durability in mind to ensure a long, useful life of product. In fact, the core principles of our remanufacturing process were designed to mitigate external waste and keep costs low.
Our Process
Creating Eco-Friendly Office Furniture
Everything we do—from the products we represent to the services we offer —is intended to make the most of your existing resources while doing the least harm to our planet. At Davies, environmental considerations play a considerable role in every aspect of our remanufacturing process.
1.
Disassembly
First, we start with workspace furniture that has reached the end of its current lifecycle. We dismantle and strip it down to its core materials, sand off the paint, and remove the fabric skins.
2.
Reuse & Repair
Next, we repair each component. Our team starts by removing dents and replacing any core parts or materials that may have been damaged to ensure a high-quality product.
3.
Reassembly
Finally, we reassemble each product back together to create a finished product that is indistinguishable from new furniture products — but at a fraction of the price.
Circular Economy of Remanufacturing
We highlight alternative circular models of production by taking office furniture that is ready to retire and remanufacture it for continued use. Utilizing end-of-life material management, Davies Office uses recycled materials to minimize negative impacts on the environment.
The Hierarchy of Green
From the best to the worst, the green hierarchy is the most effective way to visualize the impact new product manufacturing has on the environment. It's why Davies Office uses the hierarchy of green to guide our business and practices every day. See how you can participate and save.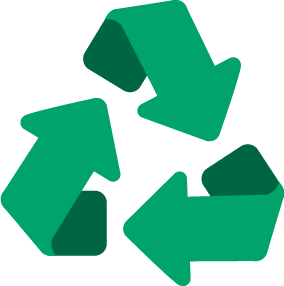 Green Certifications
Developed and designed to promote the construction and manufacturing of green buildings and products, Davies Office is LEVEL® 2 certified and can help your business qualify for LEED credits when it comes to office furniture. This means that whether you want to plan an environmentally sustainable workspace or incorporate eco-friendly furniture, Davies is qualified to get the job done.
Continuing Education Courses
In our course "Closing the Loop on Office Furniture," we discuss the current trends in the office furniture industry, and the environmental impacts of poor design on the consumer market. Take free continuing education courses for credit today.

Remanufactured vs. Used Office Furniture
The process of selling used office furniture involves taking a second-hand product and selling it in as-is condition. However, Davies' remanufactured office furniture is created from worn or non-functional products and brought back to like-new or even better-than-new condition, with a lifetime warranty. This means that every element of the piece of furniture is updated, given fresh fabrics, and fitted with new technology.
Our Success Stories
Our clients are unique; so are their projects. We've partnered with small businesses and Fortune 500 companies alike to satisfy their project goals and unique needs. From renovating and overhauls, to asset allocation and exchange banking, check out some of the ways that Davies Office has been able to serve our clients.