Challenge
US Assure, a leading property and casualty insurance provider located in Jacksonville, Florida, needed to furnish 44,000 square feet of new office space in the most affordable manner possible—and achieve a workspace that was both functional and inspired, and ultimately, modern. A tall order for most office furniture providers, but not for Davies Office.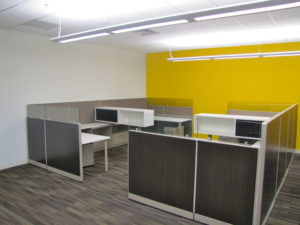 Solution
For starters, through a uniquely flexible Product Exchange Program, Davies was able to decommission US Assure's old furniture at a savings that could be applied to a "new" solution in the form of remanufactured products.
Davies custom-engineered and remanufactured 146 workstations according to the client's exacting specifications—replete with "floating" double-sided bins with a whiteboard and removable tack board overlay—and achieve the quality look and feel the client had imagined.
Results
The combination of Davies' creativity, flexibility and custom capabilities rendered the perfect solution for US Assure—one that was sustainable, energizing for the staff, and represented more than $150,000 in savings over buying new.
"We were looking for a partner who could help us transform our business. We found it in Davies — they support the way we want to work, and allow us to single-source smart, more sustainable solutions."