Workstations can come in a variety of different designs and configurations that can affect the overall happiness and productivity of the office. Happy employees are more productive. Uncomfortable workstation configurations can lead to employees to wanting to spend less time at their desks doing their jobs just to get some relief. Efficiency may also drop if it is not easy for them to move around their work areas and get to the things they need to do their job.  So, what are the elements of office furniture that make it successful?
The key ingredients of a quality workstation:
Privacy/Acoustic Panels – While the five-foot walls of the 1990s cubicle may have come down a few feet over the last few decades, workstations still require a small element of privacy to make them successful. These panels serve as a barrier to entry for those who might try to invade your workspace, distract you from your task at hand and those walls can reduce noise. Many workstation panels have flexible uses, so panels can also be a place to stick notes and reminders or to hang décor (this space is your home for 40+ hours a week, make it cute!). They are available in a variety of colors and materials, so also work well for branding purposes.
Surface Area – Having enough desk area to store stacks of papers, notebooks and personal items can give an employee ample space to stay organized. Allocating a little extra surface space for taking notes, giving guests a place to sit or lean and some extra space to spread out is an easy way to keep employees from feeling cramped or suffocated in the workspace—and it doesn't have to be much. We know that surface space is a hot commodity in most offices, so just make sure that the cubicle has space to accommodate more than just a computer screen.
Storage Options – Storage space is important for organization and keeping the work area manageable. While every person might have different storage requirements, having areas for paperwork, books and files will help keep your space from becoming too cluttered. It's also nice to have the security of a designated place to lock up sensitive and/or personal items which is why lockable cabinets have been an essential component of the workstation for so long.
Technology – For the most part we work in a wireless world, but access to permanent technology options at one's desk is critical. Whether that means a landline, printer access or ethernet cabling, a workstation should be outfitted with all of the technology that will help workers succeed without access availability being an issue. Make sure that each cubicle is wired with the proper cabling for your business—something that sounds much easier than it is. Call in an expert to make sure this part is handled correctly.
Ergonomic Chair – Sitting at your desk for 40+ hours a week can wreak havoc on your joints and back if your body is not being fully supported. A quality chair will have lumbar back support, arm rests and adjustable features to accommodate the different sizes of employees. If an employee feels uncomfortable in their chairs, odds are they are feeling uncomfortable at work, so it's an easy preventative measure for keeping people happy in their workstations.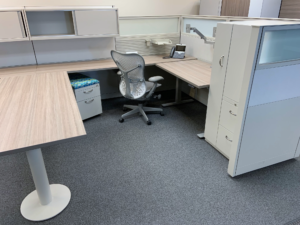 Need help finding the right cubicle or workstation for your business? Davies is a one-stop-shop of office furniture experts! Our team is well equipped to manage everything from design to the installation process of your office furniture from start to finish. Let our team help take the hassle out of planning for your next big project. Give us a call at 518.449.2040 or visit us at daviesoffice.com/contact.