What are ergonomics? Ergonomics is the applied science of equipment design, as for the workplace, intended to maximize productivity by reducing operator fatigue and discomfort. Why are they important? If you work 40-hour days/5 days a week, you spend around 10,000 hours sitting throughout a single year. Making sure your workspace is supporting you in all the right ways is not only important in the day to day, but it can have a lasting impact on your back and joints. Your chair, your desk height, and even the position of your monitor can all affect your posture while you're working. Posture also plays a huge role of the ergonomics in the workspace because having the right set-up won't really help if you sit like a pretzel (back and vision problems can result from poor posture throughout your workday).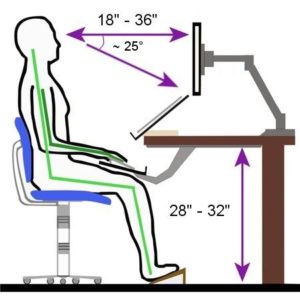 Both the eye height from your seated position and your distance from the monitor will affect your comfort level and how you're viewing a monitor throughout the day. A standard monitor typically has very limited adjustability and therefore most people need a monitor arm to help find the right monitor height. The best viewing height is usually slightly below the user's eye height. "A slight downward gaze is natural and is usually defined by the line between the top of the ear and the eye. Bifocal wearers typically prefer the screen to be 15 to 20 degrees lower than non-bifocal wearers. If the monitor is set for normal viewing and cannot be moved, a bifocal wearer will often lift up his or her head to look through the bottoms of their eyeglasses, causing extension of the neck, and potential back and shoulder problems." (Ergopedia).
The monitor should be located directly in front of the user when typing with the top of viewing surface of the monitor at or below eye level. The monitor should be located at least 18″ and no more than 36″ from the eyes; if uncertain, place it a distance equal to the size of the monitor (i.e. if a 24″ wide monitor is being used, it should be located at least 24″ from the eyes of the user when normally seated). The preferred viewing distance from the monitor is different for each user based on age, whether they wear glasses or contacts, the user's environment (lighting, spacing, etc.) and preference on viewing distance can even change for the user throughout the work day. "Preference is also a factor in determining monitor height. This is especially true for individuals who wear glasses or contacts. Research shows that when people are free to adjust the monitor, they choose a distance of between 20 inches and 39 inches a huge range."
People of all ages can experience near-vision fatigue, which is something that can be offset by adjusting the screen distance. Without the ability to adjust the monitor, it is very likely the user will not experience the utmost level of comfort during their workday. Moving one's monitor is also very beneficial to overall health, as regular and varied movement is beneficial to the spine, muscles, and circulatory system. "In order to view the monitor at a preferred distance, people end up with hunched shoulders and craned necks—an uncomfortable position they hold for extended periods of time if their work is computer-intensive. Positions that strain the back can lead to back pain, which is second only to headaches in causes of lost productivity at work." (Herman Miller)
Stationary monitors also don't support collaborative work. Team members tend to end up squatting, leaning, and hunching over a shared monitor to see the work. Mobile monitor arms allow the worker to change positions freely throughout the day and allow the user the ability to adjust the monitor so that it's always at the right height, distance, and angle that's ideal for focusing.
We want to help you maximize your space and satisfy your functional needs without sacrificing your brand's story. At Davies Office, we help you visualize the possibilities and our expert design team is highly trained to create innovative workspaces customized to fit your workplace culture and office needs. Click here to learn more about our design process.
Give us a call today at 518.449.2040 or contact us and let us help you create the office space of your dreams.