Davies Office is proud to announce that we have been named in BuildingGreen's 2021 top 10 products for sustainable building products. BuildingGreen has been selecting the top ten green building products that significantly improve upon standard "business-as-usual" practices for nearly 20 years. This award showcases products that have been proven to reduce energy consumption, carbon emissions, improve product life cycles, and have a net-positive impact on society and the environment. We are very thankful for the continued recognition as an industry leader in sustainable Office Furniture remanufacturing practices and we are honored to have been selected.
For over 70 years, Davies has been at the forefront of the sustainability movement and we've committed ourselves to the continuous improvement of our design and production process. Sustainability has always been, and will always be, crucial to our mission because we recognize the harmful environmental impacts that products can have over their life cycle. We strive to keep our product capable of achieving as many reincarnations as possible through the remanufacturing process.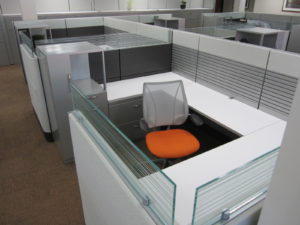 Remanufacturing office furniture means taking what companies no longer think they have a use for and breathing new life into it. In most cases, furniture doesn't wear out, it "uglies" out. Office managers turn to warehousing, selling and throwing away what they think can't be used. Here at Davies we take those worn and non-functional products and bring them back to like-new or even better-than-new condition, with a lifetime warranty. This means that every element of the piece of furniture is updated, given fresh fabrics, and fitted with new technology.
This passion for sustainable solutions has allowed us to be among the first members of the US Green Building Council™, and a long-standing member of the Business and Institutional Furniture Manufacturer's Association (BIFMA). Also, when it comes to office furniture Davies Office remanufactured systems product lines are LEVEL® 1 certified and we create products that help clients qualify for LEED credits. This means that whether you want to plan an environmentally sustainable workspace or incorporate eco-friendly furniture, Davies is qualified to get the job done.
Click here to learn more about our sustainability initiatives.