With candidates' expectations of office life becoming more sophisticated, and recruitment increasingly more competitive, the space you show off becomes an important part of the whole workplace experience package, not only for incoming employees but for your current team and clients. Things should be equally eye-catching for candidates sizing up your space. Even more important? The elements you bring to the design should remain attractive long past the honeymoon period of orientation. It's more important than ever to invest those dollars where they'll continue making a positive impact over time. Here are some of the top workplace design elements that will get your ideal candidates in the door, and keep your current team happy to come into the office:
Workplace branding
There's nothing more important than clean, prominent branding in your office. A strong, consistent internal brand is great for attracting excellent employees and ensuring they stick around for the long haul. Poorly executed internal branding can even have the opposite effect, according to research from Randstad. Why does branding have this effect? The same emotional connections that impact customers also come into play with employees. Solid branding can build trust in the company, create positive feelings toward the organization, and increase dedication and work satisfaction. It can turn your employees into brand evangelists.
Welcome Signage: Nothing says "you've arrived" the same way bold branding in public areas does. Making a splash with creative brand-centric design has the power to set the tone for the workday, creating a sense of pride, and visually reinforcing intangibles like company culture. Branding in common areas like meeting spaces, also sets the mood for visiting clients or remote employees, who may feel less connected than those who spend consistent time in office.
Communications: From a standard company email signature, to every business card floating around the office, consistent branding can offer one of the most visible and versatile ways to reinforce your internal brand.
Interactive Design: When someone contributes to a space, it can create a feeling of belonging and improve employee engagement — a great "glue" for keeping the team together. Engaged employees are highly involved and enthusiastic about their work and workplace. They are the psychological "owners," (as an ESOP company, Davies employees actually own a share in the company!) that drive high performance, innovation, and move the organization forward. It can also offer a great talking point for sharing company culture with candidates and new employees.
Gone are the days of endless, featureless cubicle banks and drab break rooms. Improvements in technology and changing attitudes to working life have made open offices more attractive — and made quality office design a must for attracting and retaining the best talent. And creating great office design and providing a variety of workspaces doesn't have to be difficult. Davies expert team of designers can easily help you understand your space needs and create fun, functional offices that more proactively meet employee needs.
Employee benefits of shifting towards modern office design:
Functional: Flexible working environments can support a more collaborative and team-oriented workplace experience. It can also increase productivity, growing peoples' sense of worth and contribution. In fact, 78% of employees said flexible work arrangements made them more productive, according to a The State of Flexible Work Arrangements Zenefits report.
Physical: If "sitting is the new smoking," then flexible work options, like a sit-stand desk or flex spaces could be part of the solution! Sitting in a chair for 40+ hours a week can wreak havoc on your body so it's important to promote physical movement which has been known to increase circulation and concentration on tasks.
Emotional: Space options, such as gathering spaces and focus areas, can help employees enjoy community, as well as recharge away from the roar of the 'bull pen' when needed. Being able to enjoy both can help employees manage stress and enjoy quality social time with their colleagues.
Environmental: Open offices with excellent environmental design offer a range of benefits. Design in these spaces can take full advantage of natural light, open space, and pleasing interior design.
Can acknowledging and meeting these needs in your workplace design strategy improve retention outcomes? According to Gensler's recent U.S. Office Workplace survey, the answer is yes. The amenities that deliver the greatest impact connect directly to people's most prevalent needs and preferences: spaces directly connected to innovation, making, and collaboration; and quiet places to perform focused or individual work.
Flexibility inside and out of the workplace
If flexibility in the office is a home run, flexibility both in and out of the office walls is a grand slam. Benefits like a variety of workspaces, better work-life balance options, and flex-time create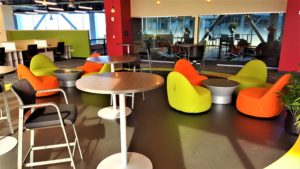 healthier mindsets and healthier spaces. Workplace design can bridge the gap between physical office presence and remote work. Design tactics to help connect the two experiences include:
Third-spaces: or areas designed to feel like a crossroads between home and work, can help alleviate the social pressure around office interactions. Spaces like cafes, lounges, outdoor seating areas, or cozy lobbies, can help create a workplace experience where employees feel comfortable working in non-traditional spaces. While these types of spaces most directly affect in-office employees, they make a workplace feel more approachable and comfortable for remote employees and visitors.
Great conferencing software: In a working world where office design relies heavily on the tech within it, empowering employees to collaborate with ease, regardless of physical location, makes all the difference. Video conferencing software in traditional meeting rooms, huddle spaces, social areas, and more that supports real human connection makes everyone feel included. Not only does it look good at first glance, but employees who can rely on their video equipment to connect with their remote teammates are bound to stick around longer than those who can't.
Giving employees the freedom and the tools to work when and how they like can do even more: create autonomy, empowerment, and an impression of trust. And the data says that employers reap the benefits of this more open corporate mindset. As highlighted in the Gensler survey, "For high performers, everywhere is a work setting — both in and out of the office." There is no doubt that the workplace is different now than before the pandemic began, however, the need to attract and retain talent to help your organization grow and thrive has stayed the same, and will continue to be a focus for organizations. Is your office designed to attract and retain talent? Need some tips for modern office designs that will energize your atmosphere, motivate your current employees, and help you attract new ones? Check out our previous blog post: LINK
Curious about Davies' design process? Check out this blog post.