In celebration of Earth Day, we here at Davies are proud to announce that our organization has joined forces with the REMADE Institute , signing a pledge to accelerate the nation's transition to a Circular Economy, increase the efficiency of resource use in manufacturing, reduce emissions, conserve resources, and create and sustain clean economy jobs.
Through our partnership with REMADE, we have engaged with other partners in the Institute in developing solutions that are capable of: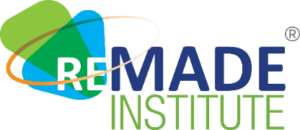 Increasing the use of more than 40 million metric tons per year of recycled and remanufactured metals, plastics, paper, and electronic waste
Reducing energy consumption by 1 Quad of energy
Decreasing greenhouse gases by more than 50 million metric tons per year
Creating 700,000 new jobs and training the workforce needed for those jobs
The first Earth Day was April 22, 1970. Elected to the U.S. Senate in 1962, Senator Gaylord Nelson, a Democrat from Wisconsin, was determined to convince the federal government that the planet was at risk. In the over 50 years since, Earth Day celebrations have grown. In 1990, Earth Day went global, with 200 million people in over 140 nations participating. In 2000, Earth Day focused on clean energy and involved hundreds of millions of people in 184 countries and 5,000 environmental groups, according to the Earth Day Network. Today, the EDN collaborates with more than 17,000 partners and organizations in 174 countries. According to EDN, more than 1 billion people are involved in Earth Day activities, making it "the largest secular civic event in the world."
We get pretty excited about Earth Day around here, while still keeping green practices at the forefront of our everyday processes. We've made it a tradition to take time each Earth Day to reflect on what we can continually do to minimize our environmental impact and to leave the environment around us better than we found it. This year we celebrated Earth Day with our annual Earth Day Clean-Up!
Litter seems to have a nasty habit of showing up where it is least desired. Not only is it an eyesore, but litter can also be detrimental to the lives of many land and marine creatures. About 18% of all littered items end up in streams and waterways as pollution. Fortunately, we all can easily do something about this. Picking up trash near where we live and work is an excellent chance to give back to our communities, enjoy the great outdoors, and it doesn't have to be a huge time commitment! For example, you could spend your next 15-minute work break picking up trash in your area. Or, you could challenge yourself to pick up 5 pieces of trash every time you go outside. Want to make an event of it?  You, your family, and even your business can work together to eliminate litter. Every little bit helps!