One important aspect of office furniture people tend to overlook is a good filing and storage system. Everyone needs a bit of organization at their desk or within their office, and depending on what kind of system you have, it can make your life a lot easier. While traditional filing cabinets can still be a great option, there's more that modern filing and storage systems can offer you. Your filing & storage system doesn't have to be bulky or require too much of your office space. It doesn't have to take up an entire room or stand out like a sore thumb in your beautifully designed office.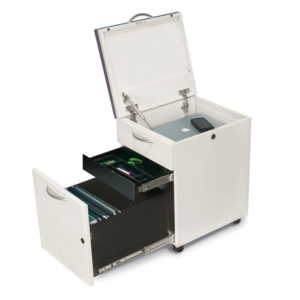 Don't have much space to work with? A Mobile Pedestal may be the option for you! These pedestals are a flexible storage option due to their mobility and size. You can customize the ped to fit your office style by choosing a top cushion we have available in various colors. Here's an example of how one office we designed chose to incorporate our mobile pedestal to ensure that every station has its' own system for the worker to utilize however they like:
Our Basecamp mobile ped offers two drawers, one with an organizational drawer insert, and one for filing. It also has a handle for easy mobility, plus the cushion top to seat a guest, or it can even provide an additional workspace right within the cubicle/station.
For general office filing & storage that can be shared or used as both an attractive AND functional piece of office furniture, is our Basecamp low height storage unit. This unit will give you just the right amount of storage, with two shelves and two drawers without cluttering your office or work area. Choose which side you'd like your drawers/shelves on to fit your work style. Just like our mobile ped, you can customize this unit to fit your office style by choosing a top cushion we have available in various colors.
Saves Time
One of the major benefits of having efficient office storage is that it saves a considerable amount of time. Employees working in an unorganized office full of clutter can take extra time trying to find a specific document and, chances are, they might not find it at all. But if all paperwork is kept neatly filed away, it can take just seconds for an employee to find what they're after. Being able to securely maintain and instantly locate valuable documents also allows employees to invest more of their time in being productive. Having the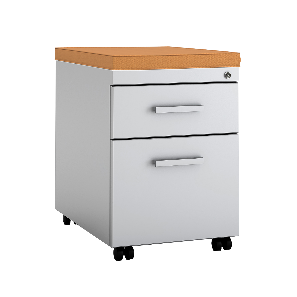 comfort of knowing where to locate an important document without the need to frantically search for it, can even reduce stress in the workplace.
Visually Appealing
It doesn't matter how productive or efficient a company is, if a potential client or future employee walks into messy, cluttered office, their first impression isn't going to be great. A tidy, spacious office where documents are systematically stored with drawers, cabinets and shelving creates a professional working environment that will impress visitors. As mentioned in a previous blog, it takes just a tenth of a second for someone to form an impression of their surroundings. Therefore, utilizing office space to showcase a company's brand maximizes the chance of building and retaining customers and employees.
Be Creative!
Storage solutions don't have to be dull, big and bulky units. This is a chance for businesses to showcase their creative flair and blueprint their values into their designs. Utilizing wall-to-ceiling spaces with slick shelving and streamlined cabinets will create an aesthetically pleasing workspace, where employees can go about their day-to-day activities in a clutter-free environment. Storage walls are also a great way to get creative as they offer a lot of space and are unobtrusive. Built into the walls of an office, they provide extra space to store everything from coats and bags to documents and files and can even be customized to suit a business' style.