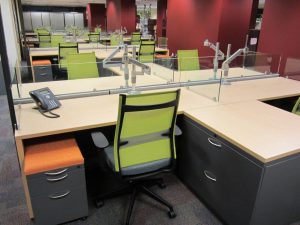 General Electric (GE) has turned to Davies Office with its office space design and space allocation issues for nearly a decade. In 2015, decision makers at GE's Schenectady-based offices decided to begin an office space transition from cubicles and high panels to open floor plans—a significant change for the company and a slightly uncomfortable one for some of its employees.
To meet GE's space objectives and ease the company's employees into an open floor plan concept, Davies designed work areas to give people as much personal space as possible. To open up the floor plan, Davies installed bench workstations—ideal for decreasing square footage per employee. In addition, Davies sectioned off the office layout to create unified yet designated areas for team collaboration, workstations, and lounge space. Davies also updated the office's colors and furniture assets.
"A major benefit to working with Davies is that they are very, very responsive to everything from project work to personal touches like getting someone set up with an ergonomic office chair."

Ty Woodard, Facility Coordinator, GE
GE's initial office space transition from a closed floor plan to an open floor plan was such a success that it became a model for other floors and departments within the company. Not only that, but employees received the change positively. "Davies did such a nice job of laying out our workspace that our employees quickly accepted the change," said Ty Woodard, GE's facility coordinator. "Our space is more open and much brighter. Davies has helped us make the same changes to two other floors."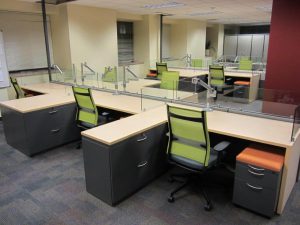 In addition, GE freed up in-house space by banking its unwanted office furniture and earning credits toward future furniture purchases. "We use Davies' product banking system, and the environmental impact is a big consideration," Woodard says. "Banking also works for us because we have no space to store excess panels and stations. Having someone come in and take it works for us."
---
To learn more about how Davies Office can help with office space transitions contact Davies Office at www.daviesoffice.com or call 518-449-2040.