Davies Office is proud to be sponsoring the opening keynote speaker at this year's IFMA World Workplace Conference in Nashville, Tennessee on September 28-30th, 2022. This year's Keynote speaker is Phil Nosworthy. He is an executive advisor, speaker and writer in the subject areas that surround making business and life meaningful. He has worked in more than 40 cities globally and counts Microsoft, AFL, Universal Music and the Commonwealth Bank amongst his clients.
Phill is known for bringing unique and refreshing insights to established concepts, His approach combines best practice research with wisdom gleaned from myth, wisdom literature and philosophy. Phill and his team apply best practice research and consulting strategies to deliver transformational insights and strategies for leading brands. This work has seen Phill advise and train senior audiences at Microsoft, ING Direct and Universal Music as well as design organizational and positional strategies for the Australian Rugby Union and the AFL.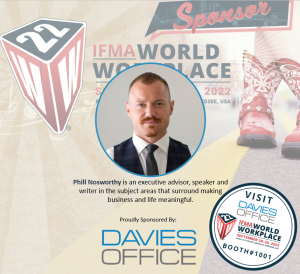 In addition to sponsoring the keynote speaker at IFMA, our LEED AP/ WELL AP Doug Pilgrim will be presenting "Office Furniture Built for Today's Circular Economy" at the conference on September 29, 2022 at 4:30pm in room 205C, Music City Center Level 2.  In this presentation he will go over the latest information about sustainability in office furniture and the economic and environmental ramifications on obsolete office furniture assets. The presentation will make the case for the circular economy alternatives to stockpiling obsolete office furniture using real world examples of programs for old furniture office assets. This will be an informative and engaging presentation on how companies have been able to address exiting furniture assets and create measurable economic value and environmental impact avoidance metrics specific to cost savings, landfill avoidance, CO2 reduction, energy saving and preserving natural resources.
Have any questions about IFMA? Click here to learn more and register: https://worldworkplace.ifma.org/