What is color? Color is light traveling in different wavelengths from the Sun and reflecting off objects all around us. The color we see is the light reflected back to our eyes.
Did you know that specific colors have powerful psychological and behavioral impacts? For example, in movies (and other related arts) color is often used to convey the "mood" or emotions of a scene. Everyone remembers the first time they saw The Wizard Of Oz (the 1939 version). There's that magical moment when the film goes from dull, boring sepia-tone to full color. This new world explodes off the screen in all of it's technicolor glory, and for a moment, we understand Dorothy's amazement as she enters Oz. Color undoubtedly has an impact on the emotion(s) people feel, that's why artists and interior designers use it as a powerful communication tool that can be used to signal action and influence moods.
The psychology of color pertains to the mental and emotional effects color has on us in our daily lives. Do you ever notice that certain places especially irritate you? Or that certain places are especially relaxing or calming to you? Well, there's a good chance that the colors in those spaces may be influencing you. There is no doubt that color has an influence; many buying decisions are based off of color: what car we want, our clothing, what makeup we wear and most importantly for that 9-to-5 lifestyle, what office furniture to purchase!
A lot of colors work wonderfully in offices, Entrepreneur did an amazing job laying out what colors work well in the office and the impact they have on workers.  According to Pantone, PANTONE 17-5104 Ultimate Gray + PANTONE 13-0647 Illuminating are a marriage of colors conveying a message of strength and hopefulness that is both enduring and uplifting. Practical and rock solid but at the same time warming and optimistic, the union of PANTONE 17-5104 Ultimate Gray + PANTONE 13-0647 Illuminating is one of strength and positivity. It is a story of color that encapsulates deeper feelings of thoughtfulness with the promise of something sunny and friendly.
So, which colors should you incorporate into your workplace environment to boost morale, increase comfort, and enhance productivity?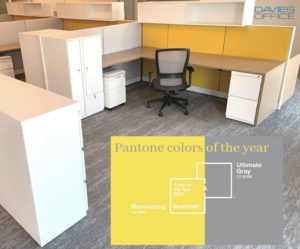 Gray- Gray is strong and steady; giving that feeling of calm and self- restraint that alleviates you from a riotous world.
Yellow- Yellow is most commonly associated with happiness, energy, and having the ability to stimulate mental activity. An all-around dual-threat, yellow can help with morale and productivity simultaneously!
Red- Red is known for its sense of strength, power, and determination. This color used in furniture will add excitement to any office space and be sure to increase production and work ethic.
Purple- Purple is often associated with luxury, power and ambition. Physiologically, purple has a calming effect on the mind and body. While it is often uplifting and inspiring, the blue undertones also ensure a soothing effect is felt, lowering blood pressure and heart rate.
Green- Studies show that green creates a peaceful, fresh, and calm environment. Green has a restful connotation and, believe it or not, our eyes focus green directly to the retina which puts less strain on our already screen-tired eyes and minds.
Blue- Who doesn't love the color blue? Blue is perfect for high traffic rooms where employees will spend large periods of time. Blue has a calming effect on the mind and can even decrease blood pressure.
Orange- Last but not least, orange. Similar to yellow, this color is most commonly associated with joy and sunsets. Orange will be sure to brighten and liven-up any workplace by boosting enthusiasm, creativity, and fascination.
Our world is an ever-changing place, 2020 showed us that loud and clear. Here at Davies we recognize and embrace this change because we are solution providers at our core. We are constantly implementing new technologies and design concepts so that we can creatively use a blend of our quality product solutions and turnkey services to help you, our customers. Let's face it, no two businesses are alike and each is unique in its own way. Through the use of fabrics and finishes, different colors can be incorporated into your workplace to add to that uniqueness and enhance the morale and productivity of your office. Give us a call at 518.449.4020 to get started on your dream office, or contact us through our website at Daviesoffice.com/contact
Click here to learn about our sustainability efforts