Most people talk about office waste in regards to using less paper and electricity, being more sustainable with our computer use, and switching to greener office products. These are certainly all important steps to creating a "green-er", more sustainable work environment. However, many have never truly considered the issue of corporate furniture waste. The office furniture industry is an ever-changing marketplace and this changeability has produced huge amounts of unwanted furniture. It's truly astounding to see the amount of office furniture that's being wasted each year. Here are some numbers to scare you right out of your chair:
According to United States EPA 2018 estimates, up to 8.5 million tons, or 17 billion pounds, of office assets end up in US landfills annually.
Waste management represents up to 4% of a business or organization's costs.
According to the Business and Institutional Furniture Manufacturer's Association (BIFMA), $14.7 billion worth of commercial furniture and equipment was produced, sold, and used in 2019 in the U.S. alone.
How Do We Get So Much Office Waste?
A typical business employs a linear model of 'take-make-waste' production. Here at Davies, we employ a circular business model where emphasis is put on creating, capturing existing product, and delivering value with improved resource efficiency through extending the useful life of products and parts and closing material loops.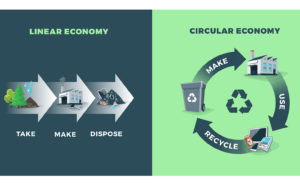 Green Standards shares the following stats for average office situations:
A complete cubicle represents anywhere from 300 to 700 pounds of waste, the majority of which is ferrous metal, wood, and plastic.
A typical task chair has dozens of different materials and chemicals, making reuse far more effective and sustainable than recycling or landfill.
Diverting reusable office furniture from landfill protects the environment by reducing the demand for timber, metals, plastics, and fabrics, reducing carbon emissions produced during the manufacturing process and disposal, and by diverting heavy durable goods from landfill.
Some good food for thought next time you head to the office store to grab some new furniture, right?
If you need to decommission your office, classroom, or corporate campus … consider ways to responsibly manage your waste through a circular economy-inspired approach. Although liquidation can seem like the easiest option, it most often leads to landfill. When you decommission, remanufacture, and recycle, you're keeping assets in use, giving them new life, and turning your waste into sustainable change.
If your corporate office or company headquarters is moving, changing size, or changing structure Davies office decommission services and our sustainable exchange program can ensure you benefit from making the change and our professional team will use their decades of experience to successfully manage the process from start to finish.
Doing business this well has its perks:  Davies was one of the first members of the US Green Building Council™. The only listed remanufacturer of BIFMA (the Business and Institutional Furniture Manufacturer's Association). A founding member of RIC (Remanufacturing Industries Council) which wrote the ANSI Standard of Remanufacturing. A founding member of the Remade Institute and the subject of RIT's (Rochester Institute of Technology) environmental impact of remanufacturing case  study. We also have LEVEL® 1 certified products that companies can earn LEED credits for. Davies was honored with an ACE Award at the 2019 RIC-RIT World Remanufacturing Conference and in 2011, we were one of only three companies to receive Greenbuild's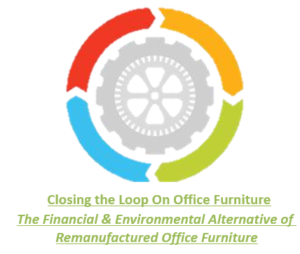 prestigious Leadership Award for excellence in sustainability. Most recently we kicked off 2021 by being listed as one of BuildingGreen's top 10 products for taking steps to reduce the environmental impacts of greenhouse gases, sequestering carbon, conserving energy and resources, and reducing emissions.
Understanding this important – and often overlooked –waste stream is huge, and we're happy to see more companies making proactive efforts when outfitting or redesigning office locations. We offer companies an opportunity to demonstrate real corporate social responsibility, by supporting the community and the planet – when companies make decisions like this it's a win for people, and for the planet. We have created a CEU course about the furniture waste cycle because we believe in educating  companies/individuals about this unnecessary waste so we can help minimize waste and maximize what products already exist.
For more information and innovative solutions for your upcoming office decommissions and redesign, contact us and turn your surplus office furniture and equipment into a win-win business strategy that benefits your team, your community, and the greater environment.
Curious how other businesses have benefited from working with Davies? Click here to view our case studies.