As we are getting further along through 2021 the idea of going back to the office is becoming a reality to more of us each day.  During this past year, many of us had the opportunity to build better work habits, and employers have had time to collaborate and discuss what makes a workplace conducive to happy and productive teams. Post-COVID office trends will be including everything from upgraded commercial office furniture to relaxed attitudes about employee self-expression. From fresh coats of paint to some new office plants, there are so many ways to brighten up your space and make it more welcoming and engaging! At Davies, we believe in purposeful design; that puts an emphasis on the functionality and personality of each client to create their dream workspace.
Chances are you don't walk into the office and immediately think about the hours of designing that went into the layout and color scheme. Instead, the more noticeable intrusions hold your attention. For example, it's too noisy, there's not enough privacy, or the lighting is bad…you're sitting in an uninspired office space …but what's more, the space lacks personality, functionality, and a sense of humanity.
Human-Centric Design
Tired of looking at the cookie-cutter gray cubicles in your office… Sitting in a chair with zero support that squeaks every time you need to roll over to your file drawer? Today's office lands cape is a wasteland. It lacks vitality, blocks talent, and frustrates accomplishment. It is the daily scene of unfulfilled intentions and failed effort. These uninspired office spaces lack design, yes, but what's more, they lack personality, functionality, and a sense of humanity.
As it turns out, we want to be happy at work. According to JLL's Global Research Study, 69% of workers agree that a sense of happiness is an essential ingredient to a unique human experience within an organization and 87% of respondents want a Chief Happiness Officer. This speaks to a true desire for fulfillment within the workplace. What doesn't make us happy? Charmless cube farms. By nature, we want to feel like we are a part of something AND that we have a say in that something. Naturally, the solution is to create a warm, colorful, inviting environment and Davies can do it for you without the hassle! Click here to check out our design process.
Open Floor Plans
The trend of open office spaces is not going anywhere. First and foremost, open floor plans are much easier to clean and limit the amount of surface areas employees will touch. Having the flexibility of an open floor plan helps make offices safe from a distancing perspective. Having flexibility in furniture encourages collaboration and creativity, allowing everyone to feel like they're apart of a team, rather than just one of the bunch. Additionally, a great benefit of an open office is the flexibility and agility it brings, with opportunities to move around a space based on the needs of that moment. By creating group social spaces (think cafeterias and breakrooms) located on high traffic routes or in prominent locations within the building can nudge workers to take a break, interact with a work friend, and feel recharged.
Easy to Clean
I think it's safe to say we're all pretty much experts on sanitizing now (has anyone ever sanitized their hands and homes as much as during the pandemic?). This habit won't stop when we return to work post-COVID. As for an office trend post-pandemic, we recommend a sharp focus on cleanable, hygienic practices. Modern workstations have a multitude of easy-to-clean options that use non-porous materials such as laminates, acrylics, and marker-board. Additionally, we can retrofit tall partitions or glass add-ups that act as sneeze and cough guards.
Acoustic Furniture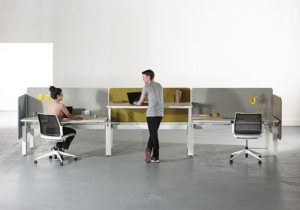 If your office hasn't yet incorporated sound-dampening furniture into its commercial office space, now is the time. The addition of acoustic chairs, pods, benches, and panels is an easy-to-incorporate solution for creating individual workspaces and private meeting spots. After a year to perfect the ideal personal workspace, employees want a calm cozy place that will be an attractive and functional way to get away from the desk for a while and staying productive. Whether you include an entirely separate touchdown space that incorporates privacy pods or acoustic panels in your workstations, sound-dampening furniture is not only practical, it's an effective and attractive way to keep the team productive and happy at the office.
A sense of self.
After working remote for so long, consider letting your employees express themselves more in the office! If the office protocol has been to maintain a sterile work desk, how about allowing individuals to decorate their modern cubicle with some family photos, some plants or small pieces of artwork? Their desk probably had a personal feel that gave them a sense of joy during their time working from home. As long as it's tasteful, it shouldn't harm anyone and is sure to boost morale around the office.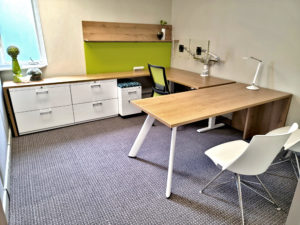 Bring the color back!
After a long year indoors, we all could use more color to help spice things up. From fresh coats of paint on walls to blooming plants, there are lots of simple ways to brighten your commercial space.
Another smart option is adding vibrant modern cubicles. These office solutions are attractive and healthy options for employees as they offer social distancing and ergonomic and acoustic features.
Returning to work post-COVID will undoubtedly require an adjustment period for everyone. Still, there are many things to look forward to, including time with coworkers, reestablishing our routines, and the feeling of normalcy. With changes to the commercial workplace's physical space and company culture, coming back will be a smoother and more hospitable transition. If you're looking to revamp your post-COVID office space, give us a call at 518.449.2040 or visit us at Daviesoffice.com/contact and lets start a conversation!