For over 70 years, Davies has been at the forefront of the sustainability movement. This passion for sustainable solutions has allowed us to be among the first members of the US Green Building Council™. The only listed remanufacturer of BIFMA (the Business and Institutional Furniture Manufacturer's Association). A founding member of RIC (Remanufacturing Industries Council) which wrote the ANSI Standard of Remanufacturing. A founding member of the Remade Institute and the subject of RIT's (Rochester Institute of Technology) environmental impact of remanufacturing case study. We also have LEVEL® 1 certified products that companies can earn LEED credits for. Davies was honored with an ACE Award at the 2019 RIC-RIT World Remanufacturing Conference and in 2011, we were one of only three companies to receive Greenbuild's prestigious Leadership Award for excellence in sustainability. Most recently we kicked off 2021 by being listed as one of BuildingGreen's top 10 products for taking steps to reduce the environmental impacts of greenhouse gases, sequestering carbon, conserving energy and resources, and reducing emissions.
Sustainability has always been, and will always be crucial to our mission because we recognize the harmful environmental impacts that products can have on the environment over their life cycle. We strive to keep our product capable of achieving as many reincarnations as possible through the remanufacturing process.
What makes us different from other furniture manufacturers? To start, we aren't manufacturers, we are remanufacturers!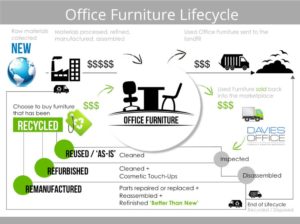 What does remanufacturing mean? Remanufacturing office furniture means taking what companies no longer think they have a use for and breathing new life into it. In most cases, furniture doesn't wear out, it "uglies" out. Office managers turn to warehousing, selling and throwing away what they think can't be used. Here at Davies we take those worn and non-functional products and bring them back to like-new or even better-than-new condition, with a lifetime warranty. This means that every element of the piece of furniture is updated, given fresh fabrics, and fitted with new technology.
How do we get the job done?  Everything we do, from the products we deliver to the services we offer, are intended to make the most of existing resources while doing the least harm to our planet. Everything starts with a company calling us because they want to revamp their office space and our expert design team collaborates with them to create their ideal office space. Then, we start with the workspace furniture that is already there and has reached the end of its current lifecycle. We dismantle and strip it down to its core materials, sand off the paint, and remove the fabric. Next, we repair each component. Our team starts by removing dents and replacing any core parts or materials that may have been damaged to ensure a high-quality product. Finally, we reassemble each product back together to create a finished product that is indistinguishable from new furniture products — but at a fraction of the price and fully customized to your unique specifications.
What do we do with what isn't used?
If the product/parts can be used, we store it for future projects to keep from buying new stock.
With what is left we strive to reach a zero landfill, 100% recycled approach, there are still times where we need to dispose of excess unusable materials.  To minimize what goes to landfill, we have developed an entire process around our End of Life Recovery Options for every single part and piece that goes into our office furniture. Click here to view our End of Life Recovery Options document.
We remain the top environmentally friendly remanufacturer of office furniture in the country today and have the research to prove it. Whether you want to plan an environmentally sustainable workspace or incorporate eco-friendly furniture, Davies is qualified to get the job done.
If you can dream it, we can create it. Give us a call at 518.449.2040 to get started, or reach out to us through Daviesoffice.com/contact. We look forward to hearing from you!