Did you know that March is Women's History Month? The Library of Congress, National Archives and Records Administration, and the National Endowment for the Humanities among others join in commemorating and encouraging the study, observance, and celebration of the vital role of women in American history.
Davies is proud to be a Woman-Owned Business (Click here to view our WOSB certificate) and we are extremely proud of our national certification from The Women's Business Enterprise National Council (Click here to view our WBENC certificate). WBENC is the largest certifier of women-owned businesses in the U.S. and a leading advocate for women business owners and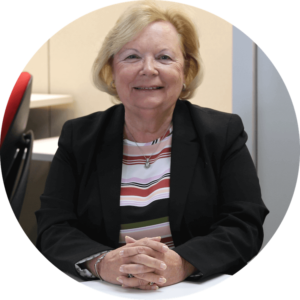 entrepreneurs.
Our founder, Evelyn Davies took some time to tell us about her early days when she was first starting out in the business, and her family had just moved into the large building we occupy today. Her two young boys were in grade school and at that time after school programs were not as popular as they are now, so Evelyn would have to go home at 3:00pm every day to meet them after school.  This meant that sometimes she would have to come in on Saturdays to catch up on work. She would bring her sons Sean and Craig with her and they would have a blast riding the furniture dollies around the warehouse, racing in and out of the rows of chairs and furniture!
While the boys thought this was the greatest thing, this demonstrates the hardships Evelyn faced being a working mother. She did not let her situation slow down the business though – coming in on weekends was a small price to pay to keep everything up and running smoothly. With Davies being the largest remanufacturer in America, it's obvious all of her hard work has paid off!
The Early Days of Women in the Workforce
Throughout much of the 18th and 19th centuries, women only went into business after inheriting them from their husband or father. As societal norms started to shift throughout the 20th century, women took on a more active role in entrepreneurial endeavors and feminism finally began to make real changes in the female working climate.
In the early 1900s, female entrepreneurs such as Madam C.J. Walker, Olive Ann Beech, and Ma Perkins got their start. These powerful women established their own brands and fought tooth and nail for success in the face of discrimination, unfair wages, and stigmas plaguing female business owners. To this day, these brands stand as a testament to the legacy of some of America's earliest "femme-preneurs".
However, World War II wasn't the very beginning of female entrepreneurship – while it was socially frowned upon for women to be business owners, women had been inventing things and creating their own businesses for centuries. From 1940 to 1945, the percentage of working women rose by almost 10% due to male military enlistment leaving gaps in the workforce. Women took up a variety of positions, from sewing clothes to repairing planes.
Female entrepreneurs boomed during this period, generating income from a wide range of home-based businesses. After the war ended, many continued their trades, earning independent incomes.
Female Empowerment in the U.S.
In the 1960s and '70s, women saw great changes in their political and social landscapes. The American feminist movement finally broke down barriers for women in the workplace, leaving behind the idea that women had to be homemakers for society to accept them. Women earned legal rights and began branching out from typical jobs such as secretaries, teachers, and nurses to explore the larger business sphere.
As women began seeking professional positions outside the home, they started some of the most successful companies to date. Mary Kay Ash is one of the most successful entrepreneurs of this age by first going door to door selling books during World War II. During the summer of 1963, she founded Beauty by Mary Kay (now known as Mary Kay Cosmetics, Inc.) with help from her sons – a business that took the beauty industry by storm.
In 1988 a study was commissioned to assess the state of women in business. The findings of the study conducted are captured in a report titled: "New economic realities: the rise of women entrepreneurs." The report led to the passage of the H.R.5050 – Women's Business Ownership Act of 1988 providing women equitable access to capital.  The Act led to the creation of the Women's Business Centers and the National Women's Business Council, but more importantly, eliminated discriminatory lending practices such as the elimination of state laws requiring a woman to have a male relative co-sign a business loan.
Where We Are Today
According to The 2018 State of Women-Owned Businesses Report conducted by American Express, there are 13 million, or about 42%, women-owned businesses in America. The firms employed 9.3 million people and reported revenue of $1.9 trillion.
Women-owned businesses are in all areas of industry; however, the 2019 Trends – Women in Business report by Guidant Financial and LendingClub identify the top five as: Health/Beauty/Fitness, Food/Restaurant, Business Services, General Retail, and Education. The survey found a 55% growth in Health/Beauty/Fitness and a 45% growth in Food/Restaurant from 2017.
While office furniture does not officially make the list, Davies is still proud to be woman-owned and we wholeheartedly believe that diversity in business promotes innovation, opens doors, and creates long-term partnerships.