So now it's 5 months into 2021 and we're all still trying to find lessons learned, if any, from 2020. Among the emerging trends from the pandemic, working from home has been one of the most overwhelming. After over a year of working from home, it is time to address what happened and how we can improve our work experience in general. At the beginning of the pandemic, only one-in-five people reported they worked from home all or most of the time. Today, 71% of workers are doing their job from home all, or most of the time. And more than half of workers say given the choice, they would continue working from home even after the pandemic, according to a new Pew Research Center survey.
According to JLL research and a recent survey, global office leasing volumes went down by 59 percent in the second quarter of 2020. Many companies are trying to sublet their empty office space while evaluating if they will continue the lease or drop them altogether. Employers are allowing their teams to work from home,  yet still wondering how productive they really are. Employees are divided between the hard-core, work-from-home enthusiasts and those that will never recover from homeschooling their kids.  In March of last year, many office workers suddenly packed up, transferred and then reassembled their work desks at home. Fifty-four percent of the respondents to the survey said they did not have a dedicated space to work from home when the pandemic started. More than half of the workforce had to get creative quickly. A third of the people who took the survey started working from their living room, followed closely by those working from the bedroom and the dining room. One fifth of respondents work from their kitchen. While memes about working from closets or on iron boards flourish, there is actually very little to laugh about.
Working From Home
The perfect work from home layout is a unique decision for each person. If a private room is not an option, find a portion of an existing room with enough space for a table and an office chair. It's best to have a dedicated desk that is used only for working, even if small because working from somewhere like your bedroom can be detrimental to your health. Your brain has great spacial memory, so when you try to sleep in the same space you're doing work, your mind may still be fixated on work and thereby keeping you from getting some well-deserved rest. If you're attempting to create the ideal sleep environment , check out these tips from Harvard.
Twenty-four percent of respondents to the survey said they have to dismantle their work environment at the end of the day, making room for other functions, and 11 percent said that was their biggest space-related challenge. The dining or kitchen table, in particular, should be kept free of work-related stuff and actually be used to promote diversity in the daily routine.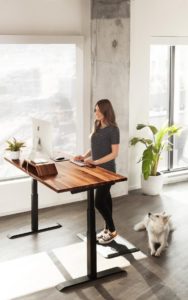 Ergonomics are very important whether one is working from home or not. For seven percent of the respondents, poor ergonomics and an inefficient set up are the biggest challenges of not being in office. Finding a chair that suits you is the number one priority, whether you prefer a traditional task chair or a yoga ball; you are sitting in that chair for 40+ hours a week. Making sure your setup is supporting you in all the right ways is not only important in the day to day, but it can have a lasting impact on your back and joints.
A sit-stand solution can not only help relieve some of the pain that comes along with sitting at a desk, it also can help improve your fitness! Sit-stands have been proven that we can burn almost twice the calories standing versus sitting down. You may have heard that the best position for office ergonomics "is your next position". This means that even the most ergonomic chair may fail you at some point if you don't move enough. Wobbly stools are flourishing in the furniture world, together with treadmill and bike desks. You can find also progressive furniture promoting the astronaut position for an almost gravity-free experience.
A Whole New Work Practice?
The last question of the survey asked if setting aside COVID-related health concerns, people preferred working from home or from the office. The result wasn't surprising, revealing the complexity and volatility of the subject. A combined 62 percent of survey takers feel more efficient at home than at work, because they feel that they have better work-home life balance. Thirty-seven percent of respondents would like to remain at home, 32 percent would prefer to go back to the office, and 31 percent would like a mix of both (with many indicating a 50/50 home/office proportion). This is quite in line with the findings of Global Workplace Analytics (GWA) which estimated that 25 to 30 percent of the workforce will be working-from-home multiple days a week by the end of 2021.
We all have good days and bad days. It can happen no matter which location we are working in.  Sometimes we just have to take a walk, maybe even call it a day. Taking breaks is important. Being able to work from home gave people the hope of freedom to take a refreshing pause – maybe fitting in a 10 minute yoga session – and to work in a more flexible way. Forty-two percent of respondents indicated that too much freedom can also be bad. We need boundaries, physical and psychological, that allow us to work in a more thoughtful way.
In general, we can think of any work environment as a climate zone where your particular workspace can be considered a sort of microclimate. A microclimate that impacts you on a daily basis. Depending on each employee's personal situation and preferences, companies will have to make sure that they give their workers the right space to focus and be productive, based on the design considerations outlined above.
Ultimately, it doesn't matter where we will be working from in 2021 and beyond. After spending so much time alone, the biggest silver lining of 2020 (hopefully) is that by now we should all know a bit more about how we prefer to work. Give us a call today at 518.449.2040 to see how we can help you create your dream home office!