Davies is Proud to be America's Office Furniture Solution Provider. For over 70 years, Davies has been at the forefront of the sustainability movement with our sustainable recycling programs and remanufacturing of grade-A office furniture systems from industry leaders into fully customized "like-new" condition at a fraction of the price of our competitors. We put an emphasis on delivering value and closing material loops because we believe in innovation, creation, and waste reduction.
At Davies we are in the business of providing solutions to our clients to help them optimize the functionality, personality, and overall efficiency of their office space. We understand how stressful it can be to make changes to your set-up, whether it's a retrofit or a complete office overhaul we offer services and solutions to help you every step of the way.
What services do we offer?
Office Design & Space Planning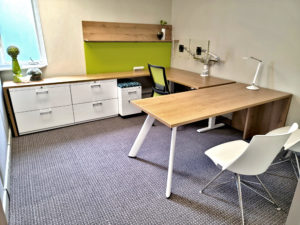 At Davies, we believe in purposeful design; that puts an emphasis on the functionality and personality of each client to create your dream workspace. Our design team will help you visualize the possibilities with auto CAD and color-coded installation drawings. We will assist with selecting finishes, designing workstation layouts, custom componentry, and work directly with your architects and designers to ensure continuity.
Click here to learn more about our design solutions, and click here to learn more about our design process. Click here to view our lookbook.
Project Management
We will provide one of our expert project managers to help with all aspects of the project. Managing projects from beginning to end can be a time-consuming and challenging task and we are ready and willing to go above and beyond for our clients. Managing a large-scale project from start to finish is a lot of work. Let our professional team create a clear organized plan; defining the concept, goals, approach, and reason for a given project is crucial to its success and our professional team of project managers will be here to help you every step of the way.
Click here to learn more about our project management solutions.
Delivery, Installation & Sustainable Furniture Decommission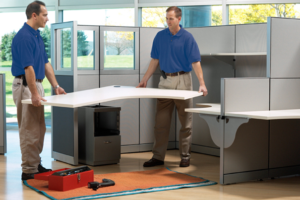 Whether it's your team or our team we will help with renovating, redesigning, installing… anything you need. Moving massive and complex office furniture items like workstations and support walls can be an arduous and lengthy task, but with a detailed installation plan or specialized on-site supervision, our trained professionals can have it done in no time. And what if you're moving? We can handle that too!
Click here to learn more about our delivery, installations and sustainable decommission solutions.
Sustainable Exchange Banking
Let us help you put your old or unused furniture to work! This unique sustainable furniture exchange banking program is truly one of a kind. To put it simply: we take the furniture you no longer have use for and we look at the remaining value. We then "bank" that value for you to use on your next project. Utilizing this program will help you reduce the overall price of redesigning your workspace; allowing us to help save your bottom line while helping keep that furniture out of the landfill!
Click here to learn more about our sustainable exchange banking program.
During the pandemic we were hit just like every other business, but we are extremely proud to announce that our lead times on our remanufactured goods are continuing to remain stable at only 4-6 weeks (or better!), which is a stark contrast to the 12+ week lead times other manufacturers are seeing with their product lines. We are also very proud to say that unlike many other companies, we've been able to maintain our pre-pandemic pricing on our remanufactured products. Let's start the conversation about what we can do to help your office space reach its maximum potential; give us a call at 518.449.2040 or visit us at Daviesoffice.com/contact to learn more.