In 2003, the Human Factors and Ergonomics Society designated October as National Ergonomics Month! This   to create awareness of human factors and ergonomics through grassroots, community-based activities at colleges and universities, high schools, and corporations by providing information and services to the community.  Promoting the science, application, and profession can be fun, and as safety professionals and ergonomists we can do this in many ways, such as teaching, networking, and providing resources to our clients and the general public.
National Ergonomics Month is devoted to spreading all of the cool info on why ergonomic-focused design is crucial to the workplace! If you've ever wondered why your computer keyboard has a crazy wavy design or why sitting in a room with a skylight boosts your mood — this is your month. It's a fact that most of us spend 40+ hours per week at work. Whether you're typing on a keyboard, using a headset, or standing at a counter — your job shouldn't cause you pain.
Assess Your Workstation Configuration! Does your back hurt when you've been sitting at your desk a little too long? Does your neck? Do you find yourself constantly shifting in your seat because you can't get comfortable? Are your eyes straining to look at your monitor because it's too close/far away from you? These are just a few signs that your set-up isn't working for you.
Check Your Posture: No amount of ergonomic design is going to help if you're sitting like a pretzel! Ideally you should be sitting level and forward facing. Hands, wrists, and forearms flat as possible (not bent up or down). Back is fully supported with appropriate lumbar support when sitting. Feet fully supported by the floor or a footrest. Ideally your hips should be as far back as they can go in the chair. Adjust the seat height so your feet are flat on the floor and your knees are equal to, or slightly lower than, your hips.
Adjust Everything!: Your head should be level and not tilted up or down. Make sure the top of your computer monitor is at or slightly below eye height and at an arm's length distance. Move the section of the keyboard that most frequently is used, in front of your body. Place the mouse as close as possible to the keyboard. An armrest essentially carries the weight of the arm so that the shoulders can 'rest.' Adjust the armrests so your shoulders are relaxed, and elbows are at about a 90° angle while you are typing.
Get Moving! Prolonged sitting can lead to pain and discomfort, so get up and move your body for a few minutes every half-hour. (Ergopedia).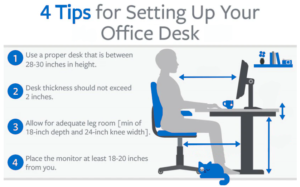 Check out our previous post about the importance of ergonomics in the workplace!
Interested in upping your office ergonomics? Give us a call at 518.449.2040 or contact us at daviesoffice.com/contact to start the conversation!