Climate change, population growth, unsustainable lifestyles – these surmounting global challenges require embracing Circular Economy as a guiding light into the future of manufacturing. It entails redesigning products to be more durable, reusable, repairable, and recyclable. Making products durable in the first place allows for them to be kept in circulation for as long as possible and gives companies like Davies the opportunity to save them after their initial lifecycle. Beyond product design innovations, it also means changing the way we consume and use goods and services, and rethinking consumerism as a society. The term 'circular economy' is sometimes used as if it is a concept that does not yet exist. In fact, many parts of the global economy are already 'circular' to some extent but are largely invisible to those living in developed economies.
A circular economy offers a wide range of social, economic, and environmental benefits. By maximizing the lifetime of our products and materials and designing out waste, circularity reduces both our demand for raw materials and the environmental impact associated with obtaining them. Using recycled raw materials will, in most cases, use less energy when manufacturing products, therefore reducing carbon emissions. The circular economy, if done right, both shrinks harmful activities such as carbon emissions, air pollution, and toxicity exposure, and increases positive actions such as habitat restoration, renewable energy, and cleaning the air.
The circular economy also offers social benefits particularly in low-income economies, because integrating informal waste pickers into formal waste collection provides job security and fair wages. Circularity also promises to deliver substantial economic benefits. Scaling up reuse, repair, remanufacturing, and recycling creates millions of jobs and stimulates innovation. Capturing and reusing critical materials such as rare earth metals help make the economy more resilient to global supply chain shocks and ensures the world has the materials to create the renewable energy infrastructure it needs.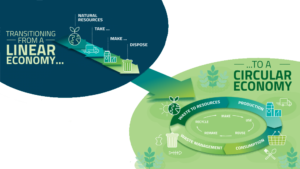 The Industry And Society As A Whole Must Make The Circular Economy Their New Guiding Principle For Manufacturing.
Davies as a Pioneer
Here at Davies we employ what is known as the blue-ocean strategy. What is blue ocean strategy? Blue Ocean Strategy is a market theory from a book titled Blue Ocean Strategy published in 2004 written by W. Chan Kim and Renée Mauborgne. To put it simply, we don't spend our time limiting our business to the status-quo, instead we've focused our corporate mission entirely on advancing and implementing new and innovative techniques to differentiate us from the industry. One of the most crucial ways we've achieved this differentiation is by embedding the Circular Economy in our day-to-day processes.
The furniture industry as a whole has fallen victim to the surface appeal of the typical linear business model of 'take-make-waste' production. Here at Davies, we employ a circular business model where emphasis is put on creating, capturing existing product, and delivering value with improved resource efficiency through extending the useful life of products and parts, closing material loops, and diverting as much product from the landfill as we can. Click here to learn more about our sustainable business practices.
Our goal at Davies from the beginning has been to embed circular economic manufacturing principles into the very fabric of our operations and has allowed us to be a trailblazer for the circular economy for the industry. The standard business cycle is essentially a one-way street straight to the landfill by continuously producing, consuming, and indiscriminately disposing of those materials/goods. The primary issue with this model is that there is only so much room in the landfill, and most of what is in there could be saved, reused, or recycled. The linear economy of "take, make, waste" product consumption simply isn't compatible with the challenges facing the world today. We all need to be taking on an active role against climate change to preserve our planet, and we have to move away from a single-use mindset.
Transitioning to this kind of circular world is a visionary project for society as a whole, and it's gaining traction. By working together, we can power the shift to Circular Economy, helping make our planet a more sustainable, healthier, cleaner place to live.