Everyone loves the concept of "going green." But "going green" in today's fast-paced, high-tech world has the perception to many people that you'll be sacrificing modern day convenience. Let's face it, most of us are reluctant to choose something that doesn't guarantee same-day deliveries and extended battery life. In short, we don't want our lives to get more difficult simply for choosing a more sustainable option.
Davies is happy to tell you that with us by your side, you don't have to choose between making the sustainable choice and convivence! With our office furniture experts and sustainable remanufacturing processes; environmentally friendly solutions don't have to make life harder for business owners and office managers. In fact, with today's supply chain issues and inflated economy, the total opposite is true in the remanufacturing world. Here are some great reasons why now is the perfect time to upgrade your office furniture with an eco-friendly remanufactured approach: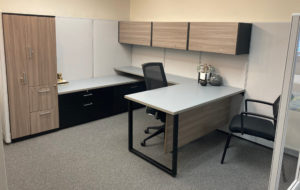 It may not come as a surprise to you that new products are generally more expensive and more wasteful than choosing used or remanufactured goods. That's why going the route ofprofessionally remanufactured high-end furniture, or supplementing new pieces with remanufactured goods, is the perfect way to hit company bottom lines without sacrificing the quality you want. By understanding the goals for your space, our design team can work with you to blend high-end new and remanufactured furniture to offer the greatest impact for your employees and the best use of your budget. And what's even better is that remanufactured furniture can also provide benefits in terms of sustainability, upkeep and longevity as older materials are often more durable. In the high-pressure environment that many new dealers are facing in terms of inventory and lead times, it pays to have a product you can count on — and one that your employees will appreciate.
Supply chains remain an enormous obstacle across all industries right now. Getting anything shipped in todays post-pandemic climate is more costly, time-consuming, and downright frustrating than it has been at any other time in recent history. But with our green-minded remanufactured solutions for your office upgrade or remodel can cut turnaround times down significantly. The Davies warehouse is full of high-quality furniture, office chairs, desks, and more just waiting to be transformed into your fully customizable office space. Every aspect of our furniture designs can be customized in terms of fabrics, materials, accessories, and more exactly to your specifications!
Whether you're interested in a product as-is or looking to further personalize to match your brand or style, it's much easier for a sustainable office liquidation company to expedite deliveries than it is for a new furniture distributor who relies on third parties to get what they need before sending it to you. Even with today's unreliable supply chain, Davies is proud to say our lead time on our LEVEL 2 Certified remanufactured pieces is stable at only 4-6 weeks!
Davies's remanufactured lines are highly customizable, combining all of the performance benefits you want from a cubicle system with your company's personal design and aesthetics. Westart with previously enjoyed workspace cubicles that are brought into our remanufacturing facility and upgrade the system with your choice of fabrics and finishes, storage solutions, accessories, and more. But the customizability doesn't stop with individual pieces. We let clients blend solutions, mixing and matching manufacturers, supplementing new furniture with recycled pieces, and have a team of professional designers to help you achieve any vision on any budget. This blending of solutions is our specialty at Davies, and we're passionate about the possibilities. Businesses can make their offices shine in 2022 and beyond with our custom design solutions — leading to stunning impressions, higher employee retention, and more!
All 9 of our remanufactured product lines are BIFMA LEVEL2 Certified!  Not only is going green cost-efficient, speedy, and flexible, but it also helps us lessen our impact on the environment — which everyone can feel good about. Buying refurbished is the standard for sustainable office furniture, and by doing so, businesses can take a long-term step for the environment that actually makes life significantly easier on them in the short term as well. But we can't ignore the positive impact that green business solutions can have on a company's public image either! With sustainability now a priority to many consumers and employees, redesigning your space with refurbished office furniture is a smart and effective way to earn their admiration and loyalty with the right messaging.
Now more than ever, upgrading your space with remanufactured furniture has significant benefits for your business — saving money, skirting supply chain holdups, and supporting a positive impact on the environment by decreasing landfill waste. If you'd like to experience the pioneering service that Davies, the largest remanufacturer in the USA, has been providing businesses since 1948, please contact us. We'd love to work with you!
Click here to learn more about our products and services